Camping Au Vallon Rouge reviews
La Colle sur Loup, Provence - Côte d'Azur - Alpes Maritimes
Une pépite en bord de rivière dans l'arrière pays provençal
Camping Au Vallon Rouge is located in La Colle sur Loup, located not far from Nice and Monaco.
We really enjoyed this campsite (which is part of the Atlantique Pellerin Vacances group), thanks to its nature, its little parakeets singing, the relaxing sound of the flowing Loup river.
We had the chance to take advantage for our holidays of a mobile home near the river with its luxury terrace: optimized to enjoy the outdoors on sunny days, this setting really allowed us to rest and swim in a fresh and clear water, and to take our meals in peace at the edge of the water. The fully equipped accommodation with TV, 3 bedrooms and air conditioning offers an irreproachable level of comfort.
Even if we did not take the time to take advantage of it, favoring excursions and discoveries around the campsite, a very beautiful heated swimming pool area completes the already numerous facilities of the campsite: snack bar on site or to take away, games children, bouncy castle, citystade, pétanque court and a stage for evening entertainment during the summer.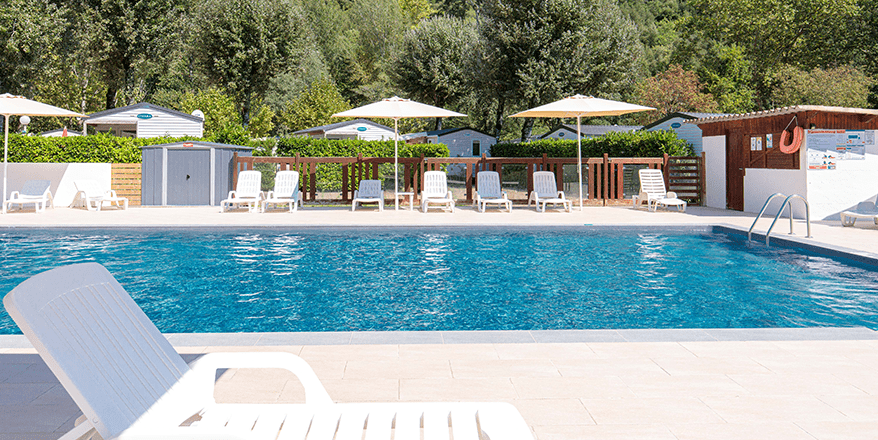 Camping Au Vallon Rouge reviews
Around this campsite you can discover a lot of things. This is an opportunity to go on superb hikes and dazzle your eyes. A word of advice: one week will not be enough to do everything, it will be necessary to plan a fortnight or more stays.
Here are some examples that we were able to test during our stay:
The Wolf's Bridge: don't miss its dizzying waterfalls, total appeasement for this magical moment.
The Bridge of the Bride: it is a vertiginous bridge 80 meters high that you will come across while criss-crossing the Gorges du Loup. Find out about the legend around this place, it will appear even more beautiful to you.
Saint Paul de Vence: pretty little medieval village with its various painters and artists, its flower & perfume shops.
EZE: village in the heights with its exotic garden that you can visit. Nice walk for hikers.
Menton: town located near the Italian border: take the time to stroll around to discover the parks, gardens and beaches...
Saint Jean Cap Ferrât: as you walk through this town, let your imagination run wild to guess the magnificent villas hidden behind the sumptuous gates and fences!
Gourdon is another small medieval village with its half-timbered houses, its alleys, without forgetting its castle and the ramparts.
Grasse: city known worldwide and historically for being the cradle of perfumery in France. You can visit some perfumeries, the Roman cathedral and discover the fountains and alleys of great beauty.
A little tour on the Croisette? Of course, it would be a shame not to stroll through Cannes, the time for you to take yourself for a star. very large upscale city. You will be able to see yoats bigger than each other, luxury cars and the famous cannes steps with their red carpet.
Valberg, a small ski resort on a human scale, close to the sea, an hour and a half from Colle sur Loup.
The gorges of Cians and Daluis, it is a splendid car ride, to discover superb ocher color, the rock with the head of a woman, the cayons, waterfalls. On the other hand, be careful because the road is very narrow in some places but offers magical images: do not forget to take your camera. A word of advice, take the time to do this circuit in both directions, especially the Daluis gorges to see even more things.
The village Guillaume full of stories is located in the Parc du Mercantour. A ruined castle dominates the town. Access to it is on foot through a small forest for the bravest or by car.
Don't forget to visit
We must not forget to visit Valbonne, Cagnes sur mer, Tourette sur Loup, Nice with the Promenade des Anglais, old Nice and the market. Even if it means being in the south east, you can even take the opportunity to push on to the Principality of Monaco, accessible in 50 minutes or the Italian border 1 hour away, not far from the small town of San Remo.